Locally Owned.
Globally Connected.
Cushman & Wakefield / EGS Commercial Real Estate is an independently owned and operated, full-service commercial real estate firm based in Birmingham, Alabama. Since our founding in 1987, we've had a long history of significant commercial, industrial, retail and land transactions throughout Alabama and have consistently been ranked among our city and state's top brokerage and property management firms.
In 2002, our firm became one of six founding members of the Cushman & Wakefield Alliance – a fully integrated extension of Cushman & Wakefield's global platform. Now, as one of 35 Alliance member firms, we leverage Cushman & Wakefield's research, insights and global network of professionals to serve our local clients with nationwide and international brokerage needs.
We are proud to be part of Cushman & Wakefield – an iconic brand recognized throughout the world for creating value for its clients, shareholders, people and communities.
Let us create value for you. Contact us today.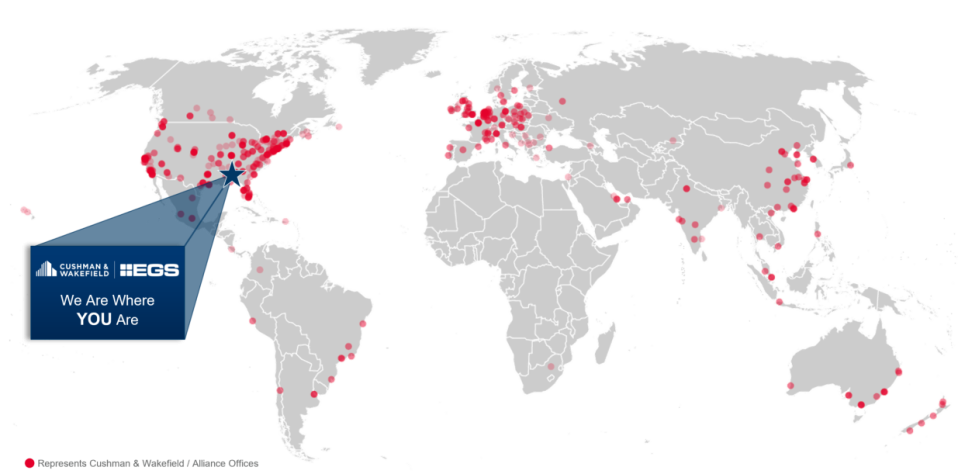 About Cushman & Wakefield
Cushman & Wakefield (NYSE: CWK) is a leading global real estate services firm that delivers exceptional value for real estate occupiers and owners. Cushman & Wakefield is among the largest real estate services firms with approximately 52,000 employees in over 400 offices and approximately 60 countries. In 2022, the firm had revenue of $10.1 billion across core services of property, facilities and project management, leasing, capital markets, valuation and other services. To learn more, visit www.cushmanwakefield.com or follow @CushWake on Twitter.
The Cushman & Wakefield Advantage
Operating as a unified team, Cushman & Wakefield and the Alliance firms integrate the strength of local talent, relationships, and market intelligence with the full capacity of Cushman & Wakefield's resources and platform.
ALLIANCE VALUE-ADD:
Committed to their respective markets, relationships, and community.
Utilizes an entrepreneurial approach in responding to client needs.
Leverages Cushman & Wakefield's platform to advance and support local relationships, talent, and market knowledge.
CUSHMAN & WAKEFIELD VALUE-ADD:
Delivers an exceptional suite of specialized services and systems.
Provides a deep brokerage bench and broad geographic reach.
Enables multi-market clients to gain savings and efficiencies via single provider service structure.
CLIENT ADVANTAGE:
Confidence – that we'll deliver meaningful value by providing the most creative and innovative services.
Consistency – in our business approach of putting client's needs first and delivering what we promise.
Culture – mutual cultures that value integrity, respect, collaboration and trust.