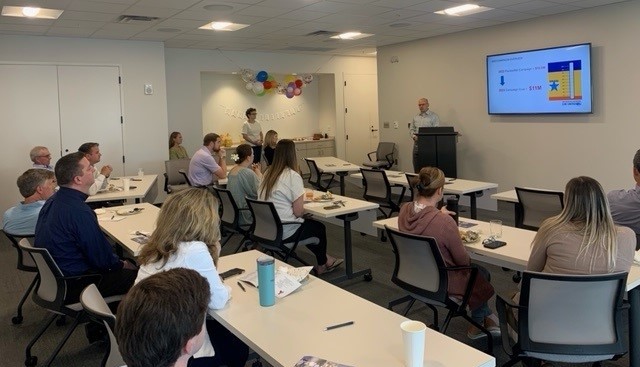 On August 2, 2023, Cushman & Wakefield / EGS kicked off its annual United Way pacesetter campaign with a company-wide fundraising breakfast.
United Way of Central Alabama (UWCA) is 100 this year and is aiming to raise $11 million with the support of over 100 pacesetter companies in the Birmingham area. Cushman & Wakefield / EGS has proudly served as a UWCA pacesetter company for over 15 years, raising thousands of dollars in support of UWCA's programs and services.
We were honored to have had Janet Gillispie as our guest speaker this year. Janet shared her incredible journey of healing through the support that UWCA provided her. Janet has even detailed her story of miraculous recovery in her book Delivered: A Memoir: My Dark Path Through Addiction.
Janet's story is only one of many illustrating the impact that UWCA has on the citizens of Central Alabama. Cushman & Wakefield / EGS is grateful for the opportunity to financially support UWCA's initiatives across the six-county region it serves.
We enjoyed visiting with our friends from UWCA and hearing Janet's testimony while enjoying breakfast and cupcakes in continuation of UWCA's Centennial Celebration.
You can purchase Janet Gillispie's book Delivered on Amazon, and learn more about how you can make a difference by visiting UWCA's website.