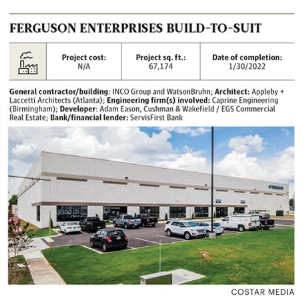 Cushman & Wakefield / EGS was recently recognized by the Birmingham Business Journal (BBJ) for successfully developing one of the most "transformative projects" changing the face of Birmingham. The project, completed for Ferguson Enterprises in January 2022, is a 67,000-square-foot (SF) Class A, build-to-suit warehouse.
Adam Eason, Vice President of Industrial Asset Management and Brokerage at Cushman & Wakefield / EGS, completed this development for Ferguson, a worldwide wholesale distributor of residential and commercial plumbing supplies.

Located in the Avondale area of Birmingham, this new development has changed the landscape of the neighborhood by providing a modern and well-designed industrial warehouse that contrasts with Birmingham's legacy industrial warehouse stock in the Central submarket. Ferguson's new facility is a concrete-tilt-up building consisting of approximately 50,000 SF of warehouse space and 15,000 SF of office space/customer pickup.
The project's state-of-the-art construction and design is setting a new standard for industrial development in the area, and its contribution to the ongoing revitalization of the Avondale area will no doubt have a positive impact for years to come.

The flagship building was constructed on an existing site inside Avondale Commerce Park, at the intersection of First Avenue North and 39th Street North, where six functionally obsolescent warehouse buildings were demolished. Ferguson Enterprises signed a long-term lease to occupy the new building and relocated its Birmingham location from Pepper Place upon completion of the project.
You can read more about this project on the BBJ's website.